Words Their Way
Words Their Way®* is a series of textbooks, activity books, activity guides, teacher's guides, and workbooks owned by Pearson Education, Inc. that takes a developmental approach to phonics, spelling and vocabulary instruction. These texts provide K-12 teachers with instruction and word lists that correlate to students' developmental stage of word study.
VocabularySpellingCity has transformed these vocabulary lists into an interactive audio visual tool. Please be advised that VocabularySpellingCity only uses the actual vocabulary words contained in Pearson Education Inc.'s texts. We have placed these words into our software program, which selects the order that the words appear on the screen and transforms them into an interactive study tool.
*Words Their Way® is a registered trademark of Pearson Education, Inc. Spellingcity.com is not affiliated, endorsed, connected or sponsored in any way by Pearson Education, Inc.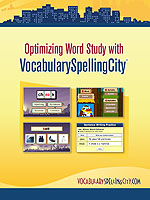 Words Their Way spelling inventories are a reliable and valid instrument that measures what students know about words and helps teachers plan instruction for developmental groups. VocabularySpellingCity makes it especially quick and easy to administer.
[sc_include_table id="4464″]
Letter Name Alphabetic Stage – Grades K-3, ages 4-9
Corresponds to beginning reading and writing: initial and final consonants, digraphs, blends, short vowel sounds, and sight words.
[sc_include_table id="4464″]
Within Words Stage – Grades 1-4, ages 6-12
Corresponds to transitional reading and writing: long vowel patterns, ambiguous and r-controlled vowels, complex consonants, homonyms, homophones, inflectional morphemes, simple prefixes and suffixes.
[sc_include_table id="4464″]
Syllables and Affixes Stage – Grades 3-8, ages 8-18
Corresponds to intermediate reading and writing: compound words, inflected endings, syllable juncture with open and closed syllables, review vowel patterns in accented syllables, final unaccented syllables, common prefixes and suffixes, enhanced academic vocabulary and content area vocabulary.
[sc_include_table id="4464″]
Derivational Stage – Grades 5-12, ages 10+
Corresponds to advanced reading and writing: words derived from shared roots and bases, Greek and Latin roots, suffixes that signal part of speech, morphology.
[sc_include_table id="4464″]