First Grade Reading Vocabulary
VocabularySpellingCity's first grade reading word lists cover a wide range of levels to support all of the students in your classroom with reading vocabulary activities and practice. Linked to classic children's literature and books from the Common Core State Standards, our 1st grade reading sight word lists provide students with the chance to practice new words in interactive online vocab games and free printable reading worksheets. Read MoreRead Less
Reading at "Just Right" Levels
Providing new readers with books that are at a level that provides just enough challenge and not too much frustration is key to developing a long lasting interest in reading. VocabularySpellingCity lists three popular reading level measurement systems for each book on the 1st grade literature list. Knowing the reading levels of the books will help you match word lists to your grade one curriculum. In first grade, the lists for independent reading are words that the students know and understand but are still learning to read. Audio supports such as reading and spelling each word from the list and audible sentence cues help beginning readers learn their words quickly.
Spelling is an integral part of learning how to read, students benefit greatly from incorporating spelling into beginning reading instruction. Easily incorporate spelling into your reading instruction by importing your word lists or pairing a ready-made first grade spelling list with over 35 learning games and activities.
Independent Reading and Read-Aloud Books
VocabularySpellingCity provides word lists for read-aloud chapter books to help students expand their vocabulary and their exposure to literature. When used in conjunction with simpler, beginning reader books, students can continue to build their aural vocabulary as they build a reading vocabulary. Using the seven read-aloud texts on the 1st grade list with VocabularySpellingCity's games and activities will help your first graders expand their aural vocabulary.
Common Core State Standards for Literature
VocabularySpellingCity literature word lists for first grade include six books and four poems from the Common Core State Standards literature list. Arnold Lobel's classic, Frog and Toad, can help students build their vocabulary to meet Language Requirement 1.6: "Use words and phrases acquired through conversations, reading and being read to, and responding to texts, including using frequently occurring conjunctions to signal simple relationships (e.g., because)." The same book provides a good opportunity to practice Reading Literature 1.4: "Identify words and phrases in stories or poems that suggest feelings or appeal to the senses." VocabularySpellingCity can help your students practice reading and memorize new grade 1 vocabulary words while having fun.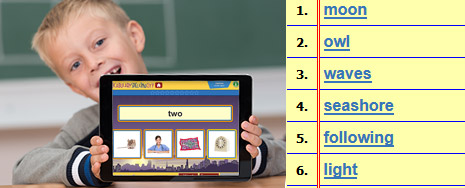 The following games are recommended for 1st Grade Reading Vocabulary Lists.