2nd Grade Vocabulary and Spelling Word Lists
2nd Grade Sample List
Click 'Continue' to play with this list or enter your own
Second grade students are pushed to become more experienced readers through increased exposure to fiction, poetry, and informational text. As a result, the study of 2nd grade spelling lists and vocabulary words are key components of their curriculum.
In second grade, students are expected to:
Increase word usage and knowledge.
Discuss books, articles, and short stories.
Analyze and clarify language.
By the end of the year, second graders should demonstrate an understanding of multiple-meaning words, integrate knowledge and ideas, and read with accuracy and fluency to comprehend text.
Must know second grade sight words on lists like ALWAYS, AROUND, FAST, FIRST, GOES, and GREEN. Our second grade spelling lists include Fry Instant Words of the most common words used in English.
With VocabularySpellingCity, meet second grade English Language Arts standards all while integrating second grade vocabulary word instruction across content areas. Get the tools to develop word study lessons with more mature and complex vocabulary that will challenge your students to excel with VocabularySpellingCity's second grade spelling words and lists.
Why It Works
We make implementing personalized and differentiated instruction easy.
Our research-based, classroom-tested learning program is proven to increase vocabulary retention scores by 43% and increase reading comprehension for ELL students by 46.5%. This classroom-tested, game-based learning program provides the repeated spaced practice, multiple exposures, and multiple modalities needed to transfer words into long-term memory from our fun, engaging second grade spelling activities. VocabularySpellingCity's second grade spelling lists, including 2nd grade sight word lists and more, power our games to make learning fun and valuable!
Import ready-made second grade word lists or create a your own list and assign engaging, interactive learning games and activities.
Some of the features teachers love:
Personalized practice & multiple word exposures
Immediate feedback & self testing
Access to word lists for every subject & grade level
Word lists aligned to second grade curriculum & standards
Review lists based on students' progress
Vocabulary practice in & outside the classroom
2nd Grade Spelling Words
In second grade, students should have command of 2nd grade sight words, read and comprehend informational text with domain-specific vocabulary, and use context to determine the correct meaning of homonyms (multiple-meaning words).
Successful second grade vocabulary instruction involves direct instruction to expand word knowledge and text comprehension as well as independent word-play to motivate and enhance learning.
Our research-based program is modeled to help students develop a deeper understanding of words through gameplay. Import pre-made second grade spelling lists or create your own second grade vocabulary word lists. Choose from second grade spelling lists, that include Dolch and Fry words, or second grade content-specific vocabulary word lists in the subjects areas of reading, math, science, and social studies. Access additional available word lists to accompany reading programs, like Journeys, and informational text to further your word study activities for 2nd grade classrooms.
2nd Grade Spelling Lists
This is your one-stop shop for a number of second grade spelling w for the classroom.
Pair your second grade spelling words with over 40 learning games and activities, or choose from the available second grade vocabulary printable worksheets. Reinforce foundational skills, like phonics and word recognition, challenge your students with word meaning, and improve reading comprehension.
2nd Grade Evan-Moor Spelling Lists
on
not
but
at
had
in
did
get
red
hot
as
has
fox
box
mix
egg
jam
pet
nap
big
his
is
an
and
can
all
call
land
hand
small
2nd Grade Academic Vocabulary Spelling Lists
draft
narrator
prewrite
indent
boldface
conflict
publish
summarize
analyze
expository
abbreviation
capitalization
comma
contraction
visualize
index
paragraph
synonym
antonym
generate
adjective
suffix
pronoun
prefix
adverb
caption
alliteration
categorize
demonstrate
examine
2nd Grade Spelling Lists
suntan
notebook
inside
myself
outside
birdhouse
homework
birthday
without
something
butterfly
footprint
goldfish
ladybug
mailbox
raincoat
snowman
seesaw
rainbow
cupcake
sunshine
airplane
lunchbox
lipstick
barnyard
anyone
cowboy
2nd Grade Literature, Math, Science, & Social Studies Spelling Lists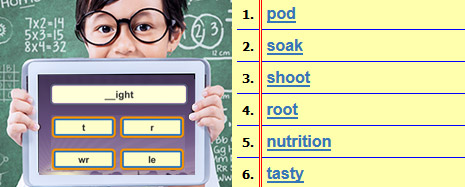 Select a link below to view available 2nd grade word lists:
SECOND GRADE READING PROGRAMS
Import second grade word lists for spelling, high frequency words, or vocabulary for each unit as organized in popular reading programs.

SECOND GRADE SPELLING
Import second grade high-frequency word lists, as well as spelling word lists aligned with Irene Fountas' and Gay Su Pinnell's K-3 spelling continuum.

SECOND GRADE VOCABULARY
Import second grade vocabulary word lists.

SECOND GRADE – OTHER SUBJECTS
Import second grade content-specific vocabulary lists.
The following games are among the most popular and recommended for 2nd graders.