Third Grade Reading Vocabulary
VocabularySpellingCity's third grade reading practice and literature lists support all of the students in your classroom with vocabulary word lists to help them understand what they are reading. Use the lists to print 3rd grade vocabulary worksheets or have your students work online to play games, complete literature activities or quizzes with their words. Linked to classic children's literature and books from the Common Core State Standards, our lists provide students with the chance to practice new words. They also provide teachers with multiple ways to enhance third grade reading comprehension. Read MoreRead Less
Reading at "Just Right" Levels
As a teacher, you know that it is important for readers to read books that are specific to their own personal reading level, providing enough interest to keep them reading as well as enough challenge to keep them learning. VocabularySpellingCity notes three popular reading level measurements for each book on the 3rd grade literature list. Knowing the reading levels of the books helps you match word lists to your grade three reading curriculum. With a Premium Membership to VocabularySpellingCity, you can modify the list of vocabulary words for each reading group or for each student so that students can practice the words they are reading. Learning new vocabulary quickly through 3rd grade reading practice activities, free printable worksheets, and online games will help students advance their reading level through the course of the school year.
Spelling is an integral part of learning how to read, students benefit greatly from incorporating spelling into beginning reading instruction. Easily incorporate spelling into your reading instruction by importing your word lists or pairing a ready-made third grade spelling list with over 35 3rd grade vocabulary games and activities.
Independent Reading and Read-Aloud Books
VocabularySpellingCity provides literature lists for read-aloud 3rd grade books and read-aloud 3rd grade poetry to help students expand their vocabulary as well as their interest and exposure to literature. Reading classics like The Cricket in Times Square orThe Pied Piper of Hamelin aloud allows the whole class to consider larger elements of plot and characterization as well as learn vocabulary like "radiant," "humble," and "injustice." Then students can practice vocabulary from their 3rd grade word list with online games and online or printed vocabulary activities.
Common Core State Standards for Literature
VocabularySpellingCity literature and reading word lists for grade 3 include independent reading selections, read-aloud selections and poetry from the Common Core State Standards literature list. Using these books, students learn skills that help them meet the requirements for both the literature standards and the vocabulary acquisition and use standards. For example, students will be meeting language standard 3.4. "Determine or clarify the meaning of unknown and multiple-meaning word and phrases based on grade 3 reading and content, choosing flexibly from a range of strategies." as they work with the words on their literature vocabulary lists. VocabularySpellingCity can help your students practice reading, learn new vocabulary, and meet the Common Core State Standards in an engaging, fun way.
Here's at a glance a few third grade reading practice and literature word lists you can import, pair them with over 35 learning games and activities.
The Pied Piper of Hamelin:
vat, shrieking, decree, ditty, townsfolk, flute, vermin, squeaking, piper, cradles
Charlotte's Web:
mercy, secure, triumph, slop, aloft, gigantic, litter, radiant, snout, runt
The Emperor's New Clothes:
beautiful, capital, clothes, emperor, invisible, minister, pretend, procession, suit, swindler
Because of Winn-Dixie:
dinner, blanket, willow, welcome, summer, dipper, foggy, thriller, ticket, swallow
The Legend of the Poinsettia:
burro, village, market, wool, dye, loom, poinsettia, procession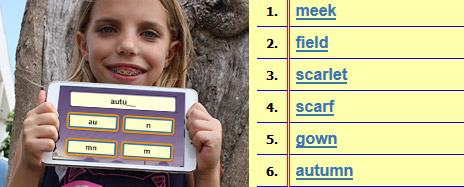 The following games are recommended for 3rd Grade Reading Vocabulary Lists.
Final Sound Speller provides practice recognizing sounds/spelling correspondences. Practice of these basic phonics skills prepare students for blending words orally and in writing with this engaging third grade vocabulary game.
Play Final Sound Speller with a 3rd grade Reading list.