VocabularySpellingCity literacy experts Barbara Kruger and Laura Kupres found the Nov. 17-18 Arkansas Reading Association Literacy Conference rewarding before they arrived: On the shuttle from the Little Rock airport, they met the conference keynote speaker, Valerie Ellery, who comes from Bradenton, FL, just a few hours north of VocabularySpellingCity's Fort Lauderdale headquarters. Ellery, whose career has included multiple literacy education and development roles, was excited about the serendipitous meeting too.
"She was really interested as soon as she found out we were from VocabularySpellingCity," Kupres said. "We were sharing ideas and talking about potential collaboration on literacy projects right away. You know it's going to be a great event when you're learning and making great friends before you've even left the airport."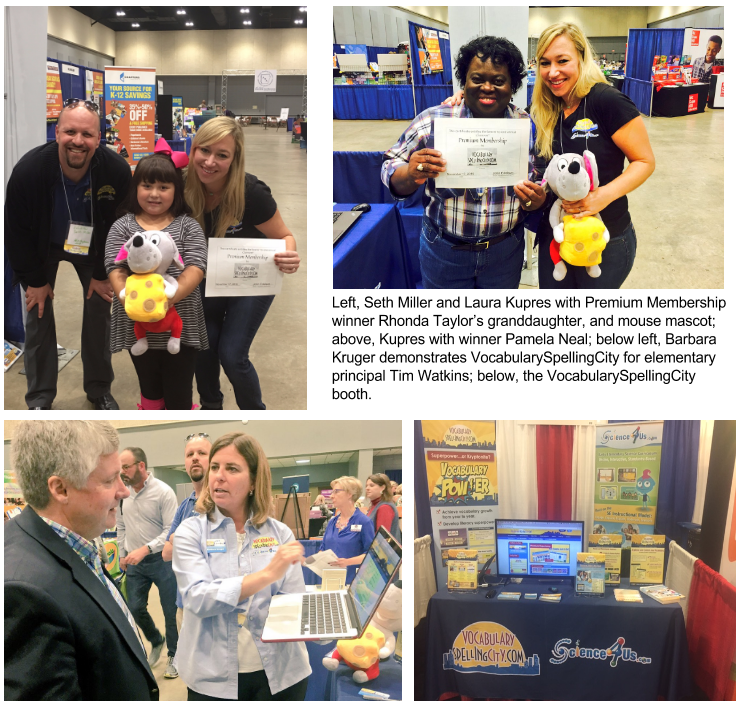 It turned out to be true. Once established in booth 23 at the Marriott and Statehouse Convention Center, the VocabularySpellingCity team, which also included regional accounts manager Seth Miller, got a warm welcome from educators, administrators, teachers, coaches, and authors. The scent of cinnamon and chocolate from Ozark Candies and Nuts wafted through the hall, "giving you the feeling of being at home curled up in a blanket," Kupres said. The Beebe Badger Bookmobile, a repurposed old school bus from Beebe, AR, public schools, sat in the corner inviting word lovers to wander in.
Jeff Anderson, author of the Zack Delacruz book series, was in a booth nearby. As teachers lined up to have their books signed, the enthusiasm was infectious.
"It was exciting to share our product, because we could feel our excitement reflected back by teachers really interested in using our site for vocabulary-building practice," Kupres said. "They were curious to learn more."
Many attendees were drawn to the booth by a sign about popular literacy expert Tim Rasinski, Ph.D., who is leading a Dec. 1 webinar hosted by VocabularySpellingCity.
They'd heard of VocabularySpellingCity, but only knew about its free features – spelling games and word lists on every subject. They were surprised to see how many tools are available to premium members at an affordable price: time-saving teacher productivity and many ways to use class/student data; automated student activity tracking across devices; personalized vocabulary, phonics, and writing activities for every learning level; thousands of word lists on every subject and the ability to create your own; immediate feedback to encourage independent learning; and best of all, games that make learning fun. They didn't know that VocabularySpellingCity has expanded to focus on building vocabulary to increase comprehension, word retention, and reading fluency.
"This sounds like a really enriching program!" said sixth-grade teacher Kara Scott.
The team got an assist spreading the word. After delivering powerful strategies for literacy instruction in her keynote, "A 'Funemic' Approach to Word Study and Comprehension," Valerie Ellery gave away a VocabularySpellingCity premium membership. So did presenter Kim Stilwell of the National Science Teachers Association, who spoke about connecting literacy and science.
"It was great getting to know so many passionate Arkansas educators who are eager to explore new ideas and avenues to improving their literacy curriculum," Kupres said. "We're really looking forward to working with a lot of them on professional development, and benefiting from their insights on how we can improve VocabularySpellingCity, too."
Were you at the ARA Literacy Conference, but didn't get a chance to talk with us? If you're interested in learning more about how VocabularySpellingCity can enhance your literacy curriculum and professional development, contact us at info@spellingcity.com or (800) 357-2157.
Making new friends at ARA Literacy Conference: 'A great event' from the start