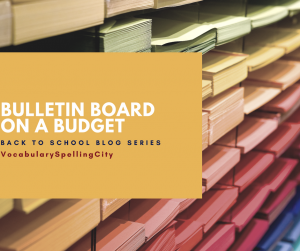 Back to School
means putting together a
back to school
bulletin board! 
Designing a welcome-back board can be a fun task, but might become costly once you realize you have three or four boards or doors to decorate. Before splurging on pre-cut letters and printed borders, take a look at the following tips to build a
bulletin board
on a budget.
Find Fabric, Table Cloths or Wrapping Paper: 
A roll of bulletin board paper can cost up to $17 – and it fades with time.  Consider using cheaper and more durable items like table cloths, fabric, or wrapping paper instead. Look for bold pops of color, or fun designs to create a more dynamic bulletin board display.  My fellow teacher friend used printed wrapping paper as the background for her festive holiday board, and it made her whole wall shine. These materials are truly inexpensive – you can find some for as low as $1!
Bring Out the Party Supplies: 

Party supplies can double as classroom decor. Look for decorations from your child's birthday parties or borrow items from friends and family. Unused paper plates, streamers, and party masks can brighten up your door or bulletin board. For my superhero-themed door, I used Teenage Mutant Ninja Turtle party masks as well as party streamers. The felt pizzas were from a party banner. 
Think Outside the Box with Borders: 

Buying borders can add up, especially if you have four or five boards to decorate. To cut back on cost, use other items in place of borders. Tissue paper, paint chips, and paper plates are affordable and accessible items that can add a  3-D element to your board. If you are thinking of incorporating a shabby- chic theme in your class, burlap will be a great choice as an alternative border. My former co-teacher used burlap for her "Antique Around the World" themed board.
Dig up the Die Cut Machine: 

Electronic die cut machines, like the Cricut, are popular, but pricey. Some schools still have the manual die cut machines available for use. Take advantage of these machines to punch out items and letters for your board. You can save die cut items and letters to reuse the following year. Sure they might not be as trendy as the $10-$15 chevron letter pack or the smiley pineapple cut outs, but they get the job done and it's practically free. I have used both die cut letters and images to create bulletin boards, for example on my Jack and the Beanstalk board.
Grab a Pencil or a Paintbrush: 

If you're artistically inclined, draw or paint items for your board. If not, you can always find someone who is. Having a hand-drawn or hand-painted item adds a personalized touch. My kinder colleagues  had some help with their hand-drawn Things 1 and Thing 2 for their doors. If you don't have a crafty friend or family member, consider printing items for your board – this can look just as great as drawings.
Get Creative with Clothespins: 

Wooden clothespins are versatile items in the classroom and are particularly useful for displaying student work. Spray paint them or cover them with scrapbook paper and modge podge to match your color scheme. Add a bit of glitz and glam by sprinkling them with glitter. For my board, I used a hot glue gun to attach rain forest cut-outs to the clothespins to match my theme.
Spruce up with Student Work: 

A blank board can come alive with student work. Assign individual or group projects that can later be displayed in the classroom or in the hallway. I like to have a visual representation of what students are learning, and my students love art projects and crafting!  For my Earth Day bulletin board, students collaboratively created a collage with recycled magazines. Later, they individually created band-aids and reflected on how they would help protect planet Earth. It's hard to embark upon a project like this during the first couple weeks of school, so you can tack up a cute "under construction" sign in the meantime.
Consider these bargain tips and tricks when you begin decorating your class.
If you have any more money-saving tips or want to share an image of your
bulletin board
on a budget, comment below. It may be featured in a future post!
Bulletin Board on a Budget