VocabularySpellingCity and Science4Us, a Science Elementary Program,  are proud community partners of Broward County Public Schools as part of our strategy of giving back to our community on an ongoing basis.  The 2014-2015 school year has been full of exciting events, such as the Hour of Code Presentations, STEM Olympiad, Career City at Dillard Elementary, Career Day for the SuperCoders at our headquarters, and the FAT Village Art District Dillard Parade!  Here's a recap of this years' community partnership events.
The Hour of Code is a global initiative reaching tens of millions of students in over 180 countries. With this valuable resource anyone, anywhere can organize an Hour of Code event. VocabularySpellingCity was invited to bring a team in to support the Hour of Code presentations at Forest Hills Elementary and Dillard Elementary Schools.  These presentations introduce computer science, and are designed to discover code and show that anyone at any age can learn the basics of coding.
At the STEM Olympiad – (SECME) Science Engineering Communication Mathematics Enhancement, our Science4Us team of Perri Robinson, Jenna Mercury, and Steve Remotigue participated in the judging of the Science posters, banners and balsa bridges  This event was held at J.P. Taravella High School where hundreds of Broward County Elementary, Middle, and High School Students, Teachers, and Administrators participated. Steve Remotigue, who was a civil engineering major in college, particularly enjoyed judging the structural integrity of the balsa wood bridges.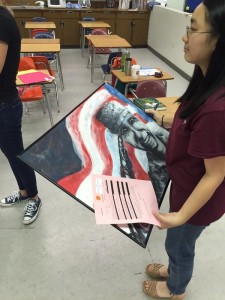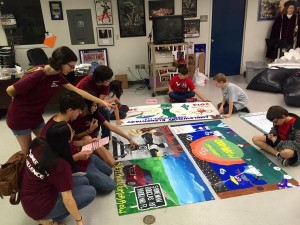 The Dillard Elementary SuperCoders Club visited VocabularySpellingCity and Science4Us. The SuperCoders Club attracts students that are interested in exploring careers in technology and computer science. The SuperCoders were accompanied by Dillard Elementary Principal, Angela Brown; Science/Math Coach, TaShara Jean-Baptiste; Literacy Coach, Dr. Tukes; and science teacher, Ms. Jones-Blake. The students were able to learn about our different departments and careers at VocabularySpellingCity and Science4Us. They also had the opportunity to see the relationship between school and the world of work.  This included Customer Support, Quality Assurance, Coding for Web Design, 3D Modeling, 2D Art Creation and Animation.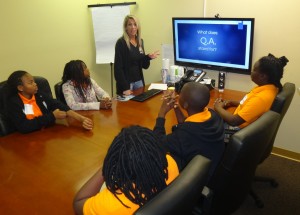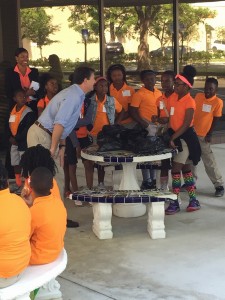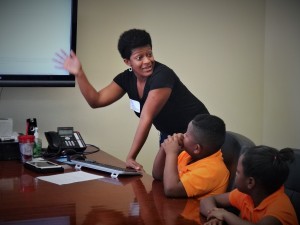 Dillard Elementary School's Career City was such a wonderful event where all their students were given the opportunity to explore a variety of real world careers. Spirit Cannon and Aaron Jefferson from VocabularySpellingCity's Client Services team were on-site to present and participate in this very special community event.
VocabularySpellingCity also participated in Career Day Events at Cresthaven Elementary, and Silver Lakes Elementary Schools.  Our presenters at Cresthaven Elementary were Spirit Cannon and Alex Van Pelt and at Silver Lakes Elementary, Dany Ramirez and Vierginie Gedeon. Our presentations included information on Careers offered at VocabularySpellingCity, subjects used in our daily jobs, understanding Source Code, and students also got a chance to play our newest unreleased games.
The 1st Annual FAT (Fort Lauderdale Art & Technology) Village Art District was an event honoring Dillard Elementary School. John Edelson was in attendance at this Art Show with Drum Line, Step Team and Dance Troupe Performances. They also held a parade, Live Music, and DJ Ali V!
The 2014-2015 school year was such a great success partnering with Broward County Public schools! We look forward to our continued partnership and community service for many more years to come!
Community Partnership with Broward County Public Schools