In my visits to elementary schools, especially the Title I schools with deeply disadvantaged students, I often wonder what more we can do for the students who are not getting the broad exposure and stimulation that will prepare them for success.  One formula that we've  developed is a career day for fifth graders, in which they visit the VocabularySpellingCity/Science4Us headquarters to learn about careers in the technology companies that create the programs that they use.  We have about 10 schools visit each year in December and May, with about 40 kids in each group.
What's the point? Education. The students should leave having engaged in new experiences in a way that transforms them and their thinking about career possibilities, and how these potential career paths connect to their education and daily activities.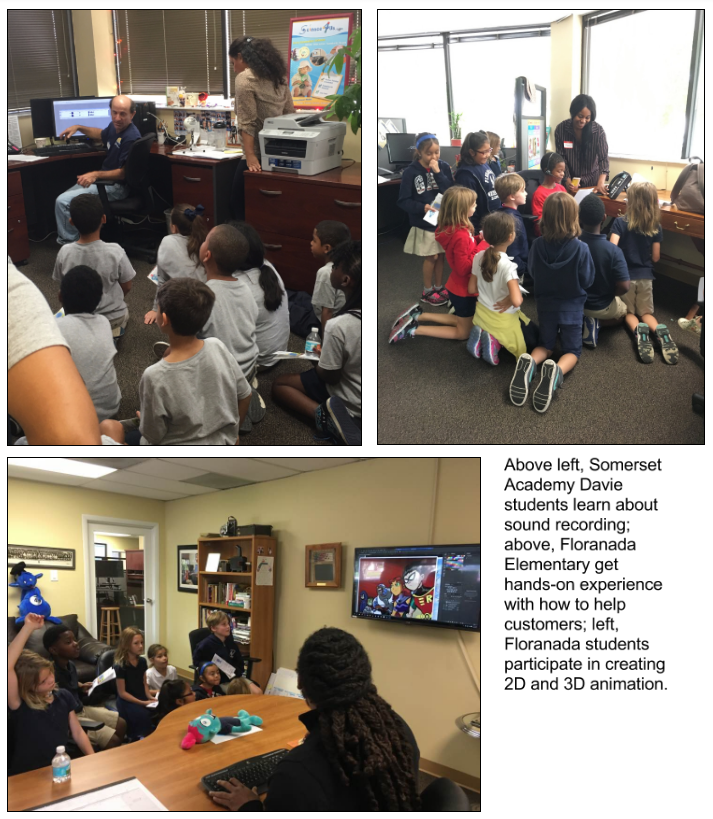 At different stations, we start by engaging students' prior knowledge and curiosity, and then lead them through the experience and logic of our work and potential careers for them. Examples of engagement at each station:
Customer Support. Have your parents ever called a company asking for help or complaining about a service?  Most of the students do remember that their parents called, often the cable or electric company, and this leads to the question of, "Have you ever thought about how companies communicate with customers?" We then take them through the process of how we answer the phones, the scripts that we use, and the attitude we have: "Service with a smile."  From there, the phone rings and we ask for volunteers: "Who thinks they are ready to answer a customer?"  This is how they get introduced to the concept of customer support representatives as a career.
Graphic animation. Can you tell the difference between a 2D and a true 3D graphic? Do you know how 3D graphics are made? After that initial discussion, our 3D artist, Bertrand Joseph, shows students how he transforms a virtual cylinder into a cone and then tops it with one, two, and three spheres. In a few minutes, the students see how wireframe geometry of 3D primitives becomes a photorealistic ice cream cone! Bertrand then explains how they can start building their 3D graphic skills using free programs on the web. This is how the artistically inclined might get their first glimpse of a future career as a 3D artist or animator.
The other stations are:

Audio. Students learn about recording and editing digital audio.
Quality Assurance. Students are asked, have you ever used a game or website that did not work as expected? They learn how our staff 

checks to make sure everything on the websites work correctly

.
Computer programming. Have students ever wondered how, for instance, the bugs in our Splat-N-Spell game are made to move around? They get a demonstration of how our activities are created.
2D animation. Students learn how the cartoon characters in games and cartoons are created.
What makes it educational?  Since we are an ed tech company, we are constantly working to make sure we fulfill the educational component. Here's some of our thinking:
Engagement. It's really easy to talk over the heads of students. Frankly, most professionals asked to explain their job to a fifth grader will probably not connect to the student, and will talk right past them. All of our stations emphasize initial engagement both to connect to students' prior knowledge and to provide them each with hands-on learning. In many cases, such as answering phones or recording audio, the script for hands-on practically writes itself. However, in cases such as 3D art where we don't (yet!) have the resources or time for each student to get hands-on, we use the concept of virtual hands-on where each student is asked to direct some of the steps and make some some of the decisions in what our artist is doing.
Vocabulary and Retention. Many of the key concepts require the student to understand the vocabulary in order to fully grasp the concept. For students to understand the Quality Assurance function, they need to understand what quality is, how it's assured, what a test plan is, and how bugs are found, cataloged and solved. These concepts with the associated vocabulary are carefully introduced, fully explored, and then a retention cycle is added.  A brochure of a summary of the stations with key vocabulary is given to each student and we point them towards vocabulary-practicing games on VocabularySpellingCity with this key vocabulary. It's important to think of key vocabulary as the label or keyword related to an important concept that the students have learned. Retaining the concept is closely related to retaining the vocabulary!
Choices. We emphasize that inside a technology company, there are a wide variety of skills and jobs.  The activities and skills students develop in and outside of school should help them pick the areas they are interested in, and build the skills necessary to succeed in those areas. We make a point of ensuring that they see successful career professionals who look like them, and we spend time letting the students ask them questions about how they embarked on their careers to help them consider their own career paths, how to build skills for them. It helps students internalize that they have and are, on a day-to-day basis, making choices that will shape their futures. We find that we don't have to get all preachy, since the kids have enough curiosity to ask the questions that bring all this out.
If your elementary school is local to Fort Lauderdale (Broward County Schools, Palm Beach County Schools, or Miami-Dade Schools) and you are interested in participating in our Coding Careers in Action, contact VocabularySpellingCity to book your time in May. There's no fee, but we do give preference to VocabularySpellingCity and Science4Us customers.  We are also setting up a mechanism for virtual field trips for non-local schools, so please ask about that too.
Educational Tech Career Days: Meet the Students Where They're At