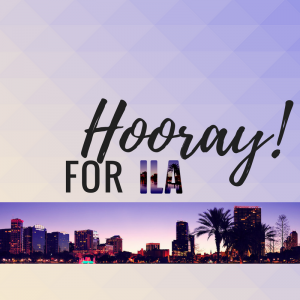 This weekend, the
VocabularySpellingCity
team traveled to sunny Central Florida. Instead of twirling in tilted teacups in our matching mouse ears, we got back-to-school-ready at the
International Literacy Association (ILA) Conference
! Every year, educators, reading coaches, and literary enthusiasts from all around the world gather for the
ILA
conference. We were lucky enough to be among the attendees and even luckier to meet some tremendous teachers! We also got a chance to check out stellar speakers and school resources. Here are some of our highlights from
ILA
!
Showcasing VocabularySpellingCity  
ILA allowed us to meet VocabularySpellingCity users, and potential users, face to face. We showcased our interactive learning activities in small group and one-on-one demonstrations. During the demonstrations, we also shared our insights from our most recent study and how Vocabulary Retention is the Key to Comprehension. Guest even had the opportunity to take a look at our fresh new look and hear Our Journey from SpellingCity to VocabularySpellingCity. All the while, we got first-hand feedback on what teachers, administrators, and students enjoy about the site. We met this eager learner, pictured below, on the first day of the conference. He loved the games so much, he begged to come back the following day!
Spectacular Speakers
Throughout the three-day conference, renowned literacy consultants, such as Katie Garner and Valerie Ellery, provided engaging informational sessions. Katie lead a presentation titled  "Hacking the Brain's Affective Domain: A Backdoor Route to Critical Literacy Skill Mastery." She spoke on reading issues elementary readers encounter and how we can help those young minds develop.
Reading and Writing Resources
Between booth presentations and speaker sessions, our team made their way through the exhibit hall and stumbled across additional educational resources. Studentreasures caught our eye in particular. This company provides teachers with the tools to publish a classbook free of charge! Another interesting booth was Nasco, which sells educational tools and toys. Our favorite was the little guy called the Worry Eater. Students can write down their worries and then feed them to this critter so that he will eat their worries all up!
Nightly Networking
Who says conferences can't be fun? On Saturday and Sunday night, VocabularySpellingCity hosted happy hours for ILA guests. Teachers, bloggers, administrators, and speakers joined us to chat about all things education. It was great to unwind and share time with everyone who attended!
We look forward to galloping over to Austin, Texas for next year's ILA conference! Hope to see you there!
Were you at ILA this year? Share your experiences below!