Everyone would like it if students took more "ownership" of their learning. Students would like it, and so would parents and teachers. VocabularySpellingCity makes it easy to give students more accountability for their own learning.
Once they've chosen a book or a study topic, ask them to identify some key vocabulary. They should pick words that they don't understand, words that they like, or words that they think their classmates might like to learn. Have them create their own list on VocabularySpellingCity. It's easy! A teacher (or parent) with a Premium Membership can navigate to List Management and click on "Allow Students to Create Lists" to enable the Student Lists feature.

Enabling Student Ownership of Learning
Once a teacher has enabled Student Lists, logged-in students will see this menu option for creating their own lists. (BTW, we recently did a round of meetings with teachers and we were surprised to hear how many teachers had not seen the student interface, which is gorgeous. Teachers, to take a look, log in to VocabularySpellingCity, go to My Students, and click "Login as" next to any student's name.)

How Students Create Lists
The student then enters a name for the list and enters his words. Once the list has been saved, the student can edit the list, selecting different usages for the words, if available. These words can be used by the student in any of our 35+ learning games or activities. The teacher can import the student's list and share it with other students, which is particularly fun since the student now gets to help his classmates with their learning too.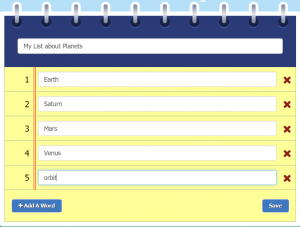 Words About Planets
It's that simple. VocabularySpellingCity's Student Lists feature provides a way for students to show leadership for their own education as well as for of their peers' education. Enjoy! In fact, tell us what you think of Student Lists. There's a comment section below or tweet to me at @VSpellCityMayor.  Thanks.
Students: Creating Lists, Owning Learning