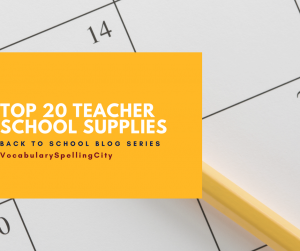 With the
back to school
season quickly approaching, it's time to stock up on
school supplies
. Parents and students will be piling their shopping carts with suggested items from the
supply list
, but what should teachers purchase? The following list features
20 must-have teacher supplies
in order to get fully equipped for the
school the year
ahead.  
Timer – In a single school day, teachers are expected to cover a wide array of standards and objectives. All the while, they need to make sure the class is on time for lunch, recess, specials, and dismissal. A timer is a great tool for both students and teachers to stay on schedule. Timers can be displayed in the front of your classroom to keep things moving. Phones have timers, but it's harder to show students how much time is left on such a small screen.
Calendar – With the constant inflow of emails announcing faculty meetings, professional development workshops, and school assemblies, teachers need a calendar. A desk calendar is key for keeping track of your upcoming events. Jot down important dates and times so that you make it to all the school events without the stress.
Electric Sharpener – Pencils constantly break and need to be sharpened, but personal, handheld sharpeners tend to drop on the floor and make a mess. What's a teacher to do? A heavy duty electric sharpener is your best bet. Splurge on this item since it will get the most use in your classroom.
Stapler – A stapler is simply a necessity in the classroom. Bulletin boards, student-made booklets, and lesson plans all need to be stapled. Certain staplers have special features, like being able to staple through 20 pages. Consider purchasing more than one stapler to serve different functions in the classroom. It's good to have an extra stapler just in case one gets misplaced or broken.
Binder Clips – Binder clips hold together all the papers that could otherwise end up sprawled across your desk. Binder clips are sturdier than paper clips, which means more paper can be clipped together. Binder clips are your best friend when sorting copies for the upcoming week!
Binders – As a teacher, remaining organized may become an overwhelming task considering the constant flood of paperwork. Storing papers in binders keeps you better organized. Some schools even require specific binders for student data, lesson plans or small reading groups. Additional binders can hold sub plans or state standards.
Three-Ringed Hole Puncher – With the use of three-ringed binders or three-ringed folders, a three-ringed hole puncher is a must. When you want to file away papers in the right order or keep them somewhere safe where they won't get crumpled, this tool is a lifesaver for both you and your students.
Page Protectors – One of the more obvious uses of page protectors is to store your lesson plans in a binder. A not-so-obvious use is that they can be pinned around the classroom to display objectives and instructions! You can print out and slide objectives into the page protector, or even use a dry erase marker to write them on the page protector itself. If alterations need to be made, simply rewrite or slip in a new paper. In addition, page protectors serve as dry-erase game boards. Print educational games and slip them inside a page protector for an instant center activity.
Magnets – Use magnets to display posters or projects on the class white board. You can even attached magnets to the class calendar and then post onto the whiteboard. Look for other magnetic surfaces in your classroom you can attach projects and decorations to, like filing cabinets! Magnets are easy to use, and,unlike tape, don't leave behind a sticky residue.
Command Hooks – Building a print-rich classroom involves posting lots of posters or anchor charts around the room. One way to hang these items is with command hooks. Clip anchor charts onto clothes hangers and then hang them on command hooks. Charts can be easily switched out throughout the year. This ingenious way of hanging things also works for behavior clip charts, lunch tags or backpacks.
Sticky Tack – Many schools do not permit the use of staples on walls, as it damages the paint. An alternative to staples is sticky tack. Sticky tack is an essential tool for posting year-long displays, like the alphabet chart or the number line.
Ziplock Bags – Large gallon-sized bags are an affordable alternative to book pouches, to send home reading group texts. They also hold tracers for art projects. As for smaller sandwich-sized bags, they are great for storing snacks or math manipulatives.
Clipboards – Purchase a storage clipboard to hold contact information, emergency routines, and seating arrangements. Sometimes you need to share these documents with other staff at lunch or specials. So a storage clipboard is the perfect way to transport this information and keep it readily available. For students, clipboards help with flexible seating. They just grab a clipboard, and from there, choose to work anywhere around the room.
Post-Its – Post-Its are perfect for writing down quick notes and reminders to parents or peers. Plus they can easily be incorporated into a lesson. Pass out Post-Its during a noun lesson and have students draw a person, place, and thing. Have students reflect on the day's lesson with a Post-It exit ticket.
Disinfecting Wipes – With all of the class projects and crafts that happen during the school year, students are bound to get their desks dirty. Glue stick globs and pencil marks are not the only debris found on table tops – germs are a problem too. Sniffling students like to wipe their hands off on tables and desks. That's why disinfecting wipes  can be necessary for keeping the class truly clean. Some schools may not allow disinfecting wipes; baby wipes work just as well.
Hand Sanitizer – It can require more than one tool to combat student germs and messiness. There will be times when you will pick up a dry erase markers and it will be mysteriously wet. For those moments, a pocket sized hand sanitizer will be more than handy.
Lanyard – Most teachers are required to have classroom keys and teacher ID on them at all times. A lanyard is a great way to keep these items close at hand. On your lanyard you can also attach little knick-knacks like pocket-sized hand sanitizer or even a whistle to round up your students at recess.
Storage Bins – Considering the abundance of manipulatives and learning resources that teachers often have, their access to storage space can be relatively limited. Some classrooms don't have closets or drawers. Storage bins help store and organize items in any classroom. Storage bins slide underneath tables, sit above shelves or stack in closets. Items can be categorized by theme, subject, or season.
Labels – Avoid scrambling to find printer paper or colored pencils by applying labels to your drawers that clearly indicate where each supply resides. Labels help out students too, so you don't hear questions like "Wait, where are the crayons?" a hundred times a day. Labels with pictures are particularly helpful for ELL students and young learners.
Personal Laminator and Laminating Sheets – Teachers like to laminate posters and papers to preserve them for future use. Unfortunately, not all schools have laminating machines, and if they do, they might not be in tip-top shape. A personal laminator allows you to laminate small items in the comfort of your own home or class. This item is a bit pricier because you will need to continually purchase laminating sheets in order to laminate. However, it's a convenient tool to have at your disposal.
Once you have these
school supplies
in your teacher tool kit, you'll be one step closer to a promising school year!
Are there other
school supplies
you would add to the list? Comment below!
Top 20 Teacher School Supplies