Since building student vocabulary skills is one of the big development areas for our company, I'm thinking a lot about how to build elementary vocabulary skills in a more rigorous and nuanced fashion.
Today, I'm writing about nuances of meaning but more generally, I'm studying the needs and standards and trying to identify ways that we can help schools practice and build vocabulary skills. Starting point: Do you have unmet needs in your schools for a supplementary, technology-based language arts program to help build vocabulary skills? If you would like to help us figure out how to help you, I'd like to hear from you. Email me at mayor@spellingcity.com.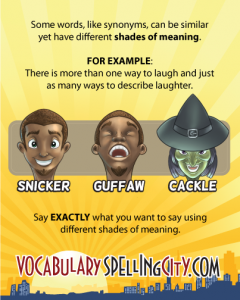 I love that the modern language arts standards emphasize shades of meaning and de-emphasize synonyms.  I always thought in school (and since) that it's naive to teach that snicker, guffaw, and cackle are synonyms. Yes, they all describe laughter, but they do NOT mean the same thing. We all know that they mean slightly different things, so I'm pleased that instead of identifying them as synonyms, we now focus on the differences and really, what these words mean.
Core standards say that in kindergarten, students should get to act out the shades of meaning between different verbs. We will soon be providing an array of verbs that kindergarten teachers can give to students to act out. I only wish I had more time to spend in the classroom watching how much fun this is going to be, and how it will help give students a solid foundation in language concepts.
In second grade, the core standards add in adjectives: Distinguish shades of meaning among closely related verbs (e.g., toss, throw, hurl) and closely related adjectives (e.g., thin, slender, skinny, scrawny).
By third grade, they make it more conceptual to address states of mind.  But they also introduce "degrees of certainty": Distinguish shades of meaning among related words that describe states of mind or degrees of certainty (e.g., knew, believed, suspected, heard, wondered).
Notice that they do not call out or emphasize the relative distinctions such as: fast, faster, fastest. I believe it's because while this has been a standard lesson in many classrooms and textbooks, it is an example of a dumbed-down lesson which the standards feel are inadequate in building critical thinking and linguistic skills. However, when I look at many of the vocabulary materials available, I see an inordinate focus on comparing the shades of meaning along a specific criterion.
Notice also that the example called out by the standards in third grade – the states of mind – gets students to reflect on their own states of mind. Rather than the old simplistic distinction between fact and opinion (and fiction), the standards emphasize the complexity and subtlety of all the shades of knowing or thinking.
By fifth grade, the nuances of meaning are no longer being called out, and the standards talk generally about word relationships: Use the relationship between particular words (e.g., synonyms, antonyms, homographs) to better understand each of the words.
So that's a quick walk-through of the standards related to shades of meaning. Any thoughts on a best practice for a supplementary language arts program to help practice and build vocabulary skills in this or other areas? If so, reach out to me.  Twitter works too: @VSpellCityMayor
Vocabulary: Shades of Meaning