High School Vocabulary and Spelling Word Lists
VocabularySpellingCity offers free high school vocabulary word lists. All high school subject area teachers can import ready-made word lists with a variety of content specific vocabulary to assign engaging activities to students. Our activities align with the 9-12 grade level standards to fit any curriculum. Teachers also have the ability to create their own word lists based on their lesson plans and units of study.
High school vocabulary word lists feature vocabulary from Common Core exemplar novels, like Harper Lee's To Kill a Mockingbird; plays, like Shakespeare's The Tragedy of Macbeth; and epics, like Homer's The Odyssey. Lists can be paired with word study activities to build vocabulary knowledge necessary to increase reading comprehension.
Science, social studies, math and other content area teachers can use the word lists found on VocabularySpellingCity to provide practice with new vocabulary words and review previously learned terms. This is a great way for high school students to learn differentiated vocabulary based on their abilities. By the time students get to high school, the vocabulary gap is wider, and VocabularySpellingCity is a great way to get high school students working from individual vocabulary lists based on their ability. High school students benefit from interactive games; the engagement helps them build a better understanding of key concepts and vocabulary needed to increase general and content area reading comprehension. Flashcards and Word Study are games that are well suited for high school students to practice their vocabulary.
High School Vocabulary Word Practice Instruction
High school may be difficult to maneuver for students, as the curriculum becomes increasingly rigorous in order to build college and career readiness. As students enter high school, there is an increase in informational texts that many high schoolers struggle to read because of the gap between their speaking, reading and writing vocabularies. VocabularySpellingCity is a great way to help teachers plan lessons that close these gaps. High school teachers must ensure students are actively engaged in lessons in the classroom as well as developing skills independently at home. VocabularySpellingCity offers independent vocabulary practice to supplement content-specific lessons by pairing teacher-created word lists, student-created word lists, or ready-made content word lists with engaging games that make independent learning fun.
High school students are expected to be self-sufficient thinkers and doers. VocabularySpellingCity offers students the option of independently creating their own word lists. In high school language arts, as students are reading novels, they can select the words they are unsure about, words they are unfamiliar with, or words they find interesting. Then they can edit their lists to select the definition that best matches the way the word is being used in context. Student-created lists can be paired with grade level appropriate activities like Paragraph Writing Practice. The student-created lists feature can be used in all high school subject areas.
In addition, high school students should demonstrate knowledge of content area vocabulary. VocabularySpellingCity has compiled a list of high school science, social studies, and mathematics terms. The varied lists are perfect for all high school subject area teachers. For example, high school algebra teachers can assign an algebra word list to reinforce concepts like polynomials and rational expressions or creating equations. They can assign an activity like FlashCards so students can review and practice key concepts at their own pace.
High school educational standards that are supported by VocabularySpellingCity.
Choose your educational standard. Then choose a grade from 9-12.

High School Sample List
Click 'Continue' to play with this list or enter your own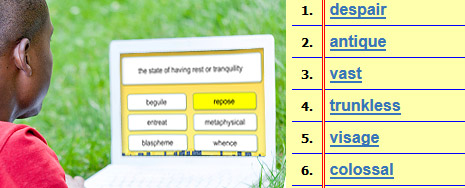 Select a link below to view available high school word lists:
HIGH SCHOOL SPELLING
Import high school spelling word lists.

HIGH SCHOOL VOCABULARY
Import high school vocabulary word lists, such as figurative language concepts.
[sc_include_table id="4464″]

HIGH SCHOOL – OTHER SUBJECTS
Import high school content-specific vocabulary lists.
The following games are among the most popular and recommended to practice vocabulary for high school students.