Science Vocabulary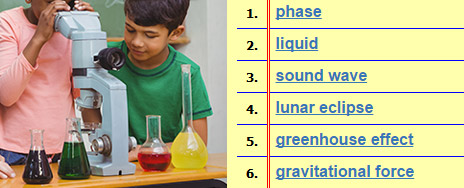 The comprehensive grade-by-grade science vocabulary lists below are based on state and national science standards. They cover the key science content areas for each grade from kindergarten through high school. The lists can be used with all of VocabularySpellingCity's 35+ learning activities and science vocabulary games. Read MoreRead Less
For each grade and science content area, there are both detailed lists and summary scientific term lists. For example, in the kindergarten science section, motion is one of the key areas. For kindergarten science, there are 85 motion vocabulary words organized in 9 lists. There is also a summary list that includes only the eight most significant scientific wordss relating to motion at the kindergarten level. Offering both detailed lists and summary lists provides teachers the right vocabulary tools they need regardless of how much detail their lessons require at any given time — whether introducing a new science topic, reviewing an already studied science category, or delving deeply into a particular scientific area, it's all just a click away!
Sentences and definitions for the words on the Science Vocabulary lists have been customized to reflect their usages within the context of science. So when terms have multiple meanings or when they can be defined in both a general or scientific manner, the scientific definition or sentence is used. When a term is used at several different grade levels, grade-appropriate definitions and examples are used. A word may also appear in different categories. For example, the word "sun", when studied within the context of Energy will have a different meaning than the word "sun" in Space Science. Below is an example of VocabularySpellingCity's differentiated treatment of science words and vocabulary:
| SUN | Definition | Sentence |
| --- | --- | --- |
| K – 2 | the Earth's source of heat and light | The sun is bright on a cloudless day. |
| 3 – 5 | the star at the center of our planetary system | The sun is highest in the sky at noon. |
| 6 – 8 | a medium-sized, main -sequence star orbited by planets and emitting light and heat | As the basis of our solar system, the sun sustains life on Earth. |
| 9 – 12 | a gaseous body emitting heat and visible light by thermonuclear reactions and around which a planetary system revolves | Energy is produced at the sun's core via a nuclear fusion reaction called the proton-proton chain. |
The writing and editing of these lists, sentences, and definitions was performed under contract by science teachers and curriculum specialists from around the country to whom we are very grateful.
The lists can be imported into teacher or parent accounts. Once imported, the lists, sentences, and definitions can be customized to the member's needs (Click for information on how to customize sentences and definitions).
Science Vocabulary In the Classroom
VocabularySpellingCity's science words lists and learning activities can be integrated into a science curriculum in a number of ways.
Reinforcement of key concepts and/or assessment – For example, Mrs. George taught an investigative science unit to her third graders on energy. A week later, for reinforcement, she had students work in groups of four and play MatchIt online with the third grade energy lists. The students who needed extra reinforcement were given printable versions of MatchIt to practice at home. The following week, the students took the vocabulary tests on VocabularySpellingCity. Since the teacher is a Premium Member, the students' test results, including incorrect answers, were automatically recorded.
Vocabulary introduction prior to studying a unit – Mr. Cabrera's 7th grade class was about to begin a science unit on matter. Before teaching his students about the laws and properties of matter, he wanted to make sure they were familiar with the key scientific terms they would encounter. Mr. Cabrera loaded VocabularySpellingCity's interactive FlashCards activity for the 7th Grade Matter Summary List on the whiteboard so that the whole class could review the definitions for each word and hear each word used in context. He then divided the students into two teams for a fun round of WhichWord? Definitions The students now had a firm understanding of the concepts that would be presented in the matter unit and were able to understand concepts more readily.
Starting in kindergarten and continuing through 12th grade, students are exposed to and expected to learn an extensive amount of information in science, from facts and data to concepts and misconceptions. VocabularySpellingCity's Science Vocabulary lists offer teachers a convenient way to build their students' science knowledge and our interactive science vocabulary games and activities make learning the concepts fun for students, which can lead to better understanding and retention.
Science Vocabulary Sample List
Click 'Continue' to play with this list or enter your own