Sixth Grade Science Vocabulary
Sixth grade science can be a challenging subject, since most study of middle school science at this level requires much concentration and effort. VocabularySpellingCity makes studying sixth grade science easier by providing extensive targeted middle school science word lists, and other sixth grade spelling lists. Studying 6th grade science vocabulary to gain subject mastery provides undeniable benefits. Read MoreRead Less
Students can review and study troublesome vocabulary terms to enhance their understanding of the sixth grade science curriculum. The repetition embedded in the practice and quizzes for the words will make any student comfortable with more complex terms. This is because the definitions are straightforward and provide an essential foundation upon which students can understand the connectivity of the words. Use our spelling lists to form a science glossary for your 6th grade classroom!
6th Grade Science Sample List
Click 'Continue' to play with this list or enter your own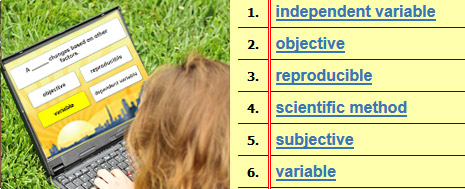 The following games are recommended for 6th Grade Science Vocabulary Lists:


FlashCards provides students the opportunity to see and hear each word spelled and then read aloud.
Play FlashCards with a 6th grade science list.